Actor Pat Buttram conceived the idea of the Golden Boot Award to honor actors, actresses and crew members who made significant contributions to the genre of western television and movies. The award was sponsored and presented by the Motion Picture and Television Fund. Funds raised at the annual banquet were used to help finance various services offered to those in the entertainment industry. The annual awards ceremony banquet was held in August from 1983-2007. Peter carried the flag in the honor guard for several years.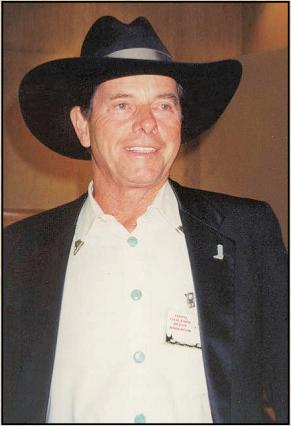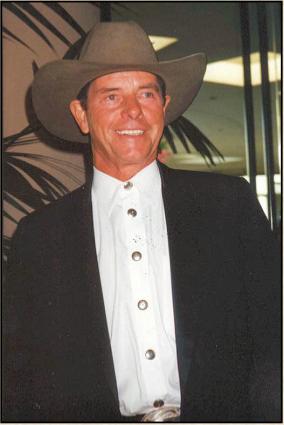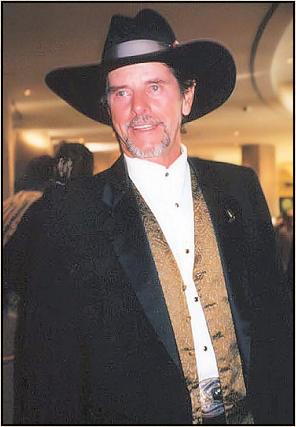 PETER GETS THE BOOT IN 2002!

Thanks to Randy (our original webmistess) for her eyewitness account.
The celebrities entered the Beverly Hilton Hotel on the traditional red carpet. Peter was with his friend LoriDawn Messuri. Each celebrity was assigned a volunteer who was supposed to get them wherever they
were supposed to be. The gal in the photo above (I believe her name was Kim) was assigned to Peter. Most of the volunteers found that riding herd on celebrities was not an easy task and Kim was no exception. Her first assignment was to get Peter to the press room but he was constantly waylaid by fans wanting autographs, photographers and friends.

I attended the Golden Boot Awards for the first time in 2002 for very good reason. Peter was finally getting his well-deserved and long-overdue Boot. I was honored that Peter arranged for me to sit at his table with the other Warners stars who were my heroes in the golden age of westerns. I'm a notoriously poor photographer, but nevertheless, below are a few of my photos from the event. I can tell you that Peter's friend LoriDawn had beautiful red hair but and although my photos may suggest otherwise, she did not have red eyes.
LoriDawn brought a boutonnière for Peter, but
she decided his flag handkerchief looked better

After the press had at them, all the celebrities were scheduled to go to the Grand Ballroom where there were dozens of donated items displayed for a silent auction. The offerings included jewelry, paintings, vacation trips, memorabilia, clothing, etc. The big ticket items were auctioned off during an intermission in the awards ceremony. The item I wanted was a matted and framed poster-sized photo of all the Warners cowboys with autograph cards, however the bidding quickly went to $3000, leaving me in the dust.
The dinner and award ceremony took place at 6:30 in the International Ballroom. I was told at the door to put away my camera as no photos were allowed inside. I did get it out a few times, hence the photos posted here. Dale Robertson was the Master of Ceremonies. The honorees (in addition to Peter) included Bruce Dern, Peter Fonda, David Huddleston, Whitey Hughes, Stuart Whitman, Marsha Hunt, Ruta Lee, Donna Martell, Marion Shilling, Ruth Terry, Gloria Winters, Earl Bellamy, Ted Post, Bill Whitney, Robert Colbert, Will Hutchins, William T. Orr and Roy Huggins.
The presenters included Bridget Fonda, Laura Dern, Ernest Borgnine, Dana Delany, Clint Walker, Robert Conrad, Kris Kristofferson, Andrew Prine and Phil Spangenberger. Bruce Boxleitner and his (then) wife, Screen Actors Guild President Melissa Gilbert, read letters of congratulations from Clint Eastwood, Charleton Heston and Nancy Reagan.
The committee put together a montage of clips for each awardee. I remember David Huddleston's and Bruce Dern's as being particularly good. The clips for the Warners stars were somewhat confusing. Peter's montage included more guest spots on
Colt .45
and
Cheyenne
than clips from
Lawman
but the montage didn't make clear which was which. They included only clips from Warner productions for the actors, which meant there was nothing of Peter's role in
Laredo
or his guest shots on
Wagon Train
,
Virginian
, etc. Also, Will Hutchins' montage excluded his western movie
The Shooting
. The montage for Warner Brothers executive producer William Orr included westerns from other studios - oops.
Also, they tried to suggest that Robert Colbert was a costar of
Maverick
by using the
Maverick
theme for his walk-on and using only
Maverick
clips for his montage. In actuality, Colbert's character lasted only two episodes in a failed attempt to replace James Garner with someone who resembled him. Colbert guested on all the Warner's westerns however.
Laura Dern presented the award to her father Bruce Dern after telling a cute story about a playmate who was told he could no longer play at her house because her father had killed John Wayne. At eight, she just couldn't believe her daddy had killed this "John guy." But that week the cover of
Life
magazine confirmed the accusation. Bruce had indeed killed John Wayne (in
The Cowboys
).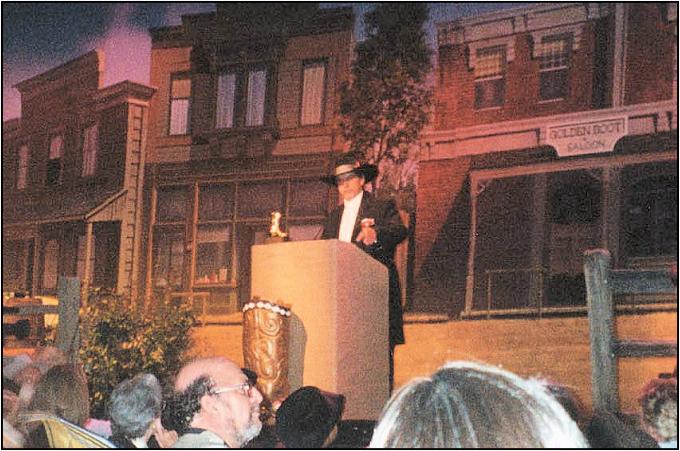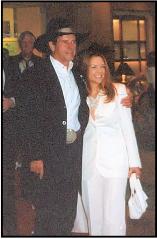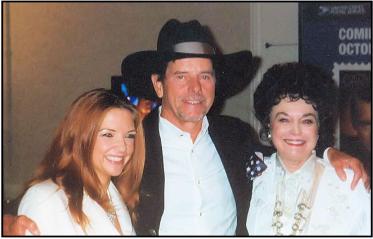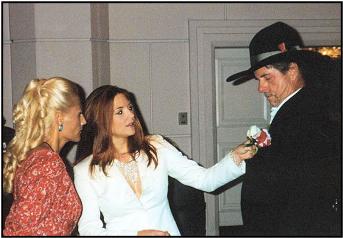 With Peter's event volunteer Kim
And then, after receiving his Golden Boot, came one of the best speeches of the night...
Peter delivers his acceptance speech after receiving his Golden Boot from Bruce Boxleitner
"A BRIEF HISTORY"

"I LEARNED: MY CRAFT FROM MY MOTHER
I LEARNED: SCREEN ACTING FROM JOHN RUSSELL
I LEARNED: LOYALTY AND PATIENCE FROM THE GOLDEN BOOT COMMITTEE
I LEARNED: HUMOR FROM CASEY TIBBS AND BAXTER BLACK
I LEARNED: FAST DRAW FROM ARVO OJALA AND ROD REDWING
I LEARNED: HONESTY FROM BEN JOHNSON
I LEARNED: COURAGE FROM RICHARD FARNSWORTH
I LEARNED: FAIRPLAY FROM EVERY STUNT PERSON I'VE EVER KNOWN.
I LEARNED: CAMARADERIE FROM THE "HOLE IN THE WALL" GANG
I LEARNED: THE COWBOY WAY, FROM ALL OF YOU.
I LEARNED: FRIENDSHIP FROM CHUCK COURTNEY, DOUG MCLURE, ROBERT FULLER, ALEX CORD
AND HERB JEFFERIES
I LEARNED: LOVE FROM LORIDAWN MESSURI (AND SHE'S SITTIN' RIGHT THERE)
I LEARNED TO BE PROUD OF BEING A COWBOY, AND I AM, AND I AM MOST PROUD TO RECEIVE THIS GOLDEN BOOT TONIGHT."

"I ALSO LEARNED THAT WHEN YOU'RE FINISHED, GET THE HELL OFF, SO, I'M GONE. GONNA FIND ME A WATERING HOLE. GOODNITE, GOD BLESS, NAMASTE AND WITH CHERYL AND JULIE'S BLESSING, 'HAPPY TRAILS.' GRACIAS, ADIOS."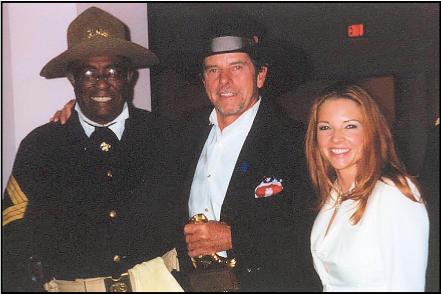 Last photo of the evening. Peter was supposed to hold up the boot so it could be fully displayed. However, the sucker was heavy or he forgot or I forgot. (Oh well, you know what a boot looks like.) The gentleman next to him is Bill, Peter's friend who is part of the Buffalo Soldiers, a group that participates in western shows and reenactments. (They must be dedicated to wear those woolen uniforms in the miserable southern California heat.) The Buffalo Soldiers provided an honor guard as the guests entered the dinner. They also made Peter an honorary captain.

An Honorary Golden Boot Award was given to the Colt Manufactoring Company. The "Best of the West" award for New Film/Television productions went to
American Outlaws
. Other nominees were
Dust
,
The Journeyman
,
The Lone Hero
,
Night of the Wolf
and
Texas Rangers
.
"EVENIN', I'VE HEARD TELL SOME FOLKS DON'T BELIEVE IN MIRACLES, BUT THEY HAPPEN - ME BEIN' UP HERE T'NITE IS LIVING PROOF."

"CONSIDER THIS, A KID BORN SMACK DAB IN THE MIDDLE OF NEW YORK CITY, GROWIN' UP LISTENING TO "THE LONE RANGER" AND "GENE AUTRY" ON THE RADIO - SNEAKIN' OUT TO SATURDAY MATINEES TO SEE ROY AND DALE AND THE SONS OF THE PIONEERS, TIM HOLT, HOPALONG AND ALL THE REST."

"THEN WINDIN' UP MOVIN' BACK A CENTURY ONTO SLIM PICKENS' RANCH UP IN THE SIERRA NEVADA MOUNTAINS OF CALIFORNIA. BY 'MOVING BACK A CENTURY' I MEAN WE HAD NO ELECTRICITY, NO RUNNING WATER, JUST A PUMP AT THE SINK AND A KEROSENE LANTERN HUNG FROM A RAFTER ON A ROPE WHICH WAS LOOPED OVER AN ANTLER ON THE WALL. NO SUBWAY, NO CABS. BUT THERE WAS A HORSE, ONE HORSE, HER NAME WAS DIAMOND. THE ORIGINAL OLD GRAY MARE. BUT SHE WAS SO OLD AND SO GRAY, WE CHANGED HER NAME TO DIME. MY OLDER BROTHER AND I WOULD DOUBLE UP ON HER AND RIDE HER BAREBACK 2 1/2 MILES INTO THE TOWN OF COARSEGOLD. WE'D LEAVE HER AT THE LOCAL LIVERY BEHIND THE GAS STATION AND GET ON THE SCHOOL BUS. SEVENTY-SIX MILES EACH WAY - EVERY DAY. COURSE IT HELPED IF YOU HAD A GIRLFRIEND ON THE BUS. I WAS NEVER HAPPIER. EXCEPT FOR MAYBE TONITE."








Official Peter Brown Fan Site

Peter looked handsome as ever when he attended the 1999, 2000 and 2001 banquets.